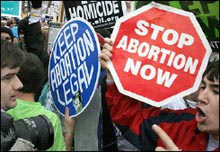 It's hard having discussions about difficult issues, but we need to. The state legislature should be a place for our elected representatives to have these difficult but necessary conversations. Getting the discussion going is an art. Advice can be helpful; I sought it when new to the office. After I first got elected to the legislature I called the person who had served in the seat before. He wouldn't talk to me. And I have had no conversations with the person who defeated me in November 2016. So I send this advice out to Senator Foreman, knowing it is unsought and probably unwelcome.
Senator Foreman, I appreciate your strong stance on abortion. I believe a civil and honest discussion might help us all understand just how important this issue is to each other.  I understand from what I read in the press that your "solution" would be to make abortion once again a crime: murder. And since you won your seat with the majority vote in your district and you clearly voiced your position in your campaign, I can understand that you may believe the majority of your constituents support your proposal. So, let us all see what in fact you propose, for I have many questions about your intentions.
I came to understand the legislative process as one of building support among my colleagues. But the legislature allows for another process, if such support is thin. All legislators can have bills printed for all to read and consider through printing a "Personal Bill". This must be done early in the session. So, Senator Foreman, if you have been unable to get the support of chairmen or leadership, print a personal bill. Let the public and your constituents know just what you have in mind, for I have questions.
You must know about this process. Indeed, I did this after waiting three years for Republicans to address the Gap population and Medicaid expansion. I thought we needed some discussion on this important issue. Maybe you'll get a generous chairman to give you a public hearing, like I did. Understand this will not please leadership.  Maybe the hearing will be longer than 40 minutes and more than 10 people can testify. Maybe the conversation and consideration will be civil and thorough. I would hope so. For I have questions.
If abortion is to be a capital crime, will you propose any statute of limitations? Will women or practitioners who have made this painful choice ten years ago be subject to prosecution? Will the data on abortions collected by the Department of Health and Welfare, as required by law, be subject to review of prosecutors? Since abortions are carefully counted by the DHW, how will we know if there are actually less occurring, as most people want, since they will now be a crime? Who will care for the families of women incarcerated for this crime, since many who have abortions are already mothers? As you have pointed out, murder is illegal, but it still happens. And we do prosecute. I have heard you consider an exception to this crime to be allowed if the mother's life is in jeopardy. Who makes this determination, a judge? A medical professional? There are many more questions.
Senator Foreman, you could help us all with this important discussion. Let us see your proposal.