An Oregon congresswoman spoke at my sister's memorial service 20 years ago. It was a painful time for me, but her words stayed. She said, "If you value freedom you must work for justice." In doing this legislative work I find that justice is not always easy to see, and the work to do for it may come down to how you chose to spend the money you have. Working for justice requires deeper thought, longer looks, and getting off a comfortable bus to see what could be missed.
Serving on Joint Finance and Appropriations Committee (JFAC) has been a joy and a burden. There is so much to learn that it can seem overwhelming. But the people on the committee are a joy; the staff and the co-chairmen encourage the work, forgive the ignorance and reward the effort. And the ultimate reward is having a voice in how the state spends. I hope to give good service to my constituents and my state.
This September 2013 the JFAC "bus" toured state facilities in southeast Idaho. It is important for members to know how we are spending taxpayer money. We saw what Idaho State University was doing in health care education and the struggles they had with some buildings. We visited a state crime lab in an old building down by the train tracks and the women's prison in Pocatello. We got down to Bear Lake State Park and Lava Hot Springs. We heard from passionate educators in Grace, Idaho where they give the kids a week off early in the school year to help with the potato harvest. Each stop made me wonder how taxpayer dollars can help, or if they should "help" at all. Our state doesn't have much to spend and most communities help themselves best. But I believe we legislators are obliged, indeed entrusted, to serve the common good.
Each stop also provoked questions:
Why does the state own and operate a hot springs resort? Is there more value in public access to a beautiful high desert lake or in private ownership? Do schools need state direction to solve their education issues or can they manage best locally? Can convicted criminals contribute to society?
I have many more questions but I want to tell you a story from the last day of the tour.
Franklin, Idaho, has the distinction of being the first white settlement in Idaho. No honor is lost that the founders thought they were in Utah until the territorial surveyors corrected this false impression. They had been sent here by their leader, Brigham Young and they persevered.  They irrigated the desert, grew crops, built a railroad and a thriving community. We visited a State Historical Society site that included the stone house of the pioneer Bishop Lorenzo Hill Hatch.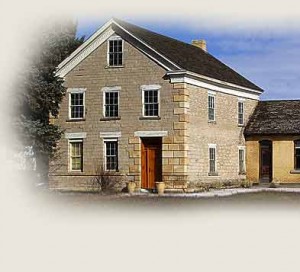 The pamphlet described his as the town's first mayor and a "legislator". From reading The Tie That Binds about the state convention to write the Idaho Constitution I knew that the biggest issue facing the body  was whether Mormons should be allowed to vote(they weren't), so how could a Mormon Bishop be a legislator? I asked our guide, a retired legislator himself,"It says here he was a legislator, but I thought Mormons couldn't vote."
He shook his head, unsure. "No, you're right. I'm not sure how that happened. At early statehood we were right down there with the Indians."
I researched further and found that Bishop Hatch served in the Territorial Legislature, before statehood and Mormon disenfranchisement. In one of his letters from his service he described Boise as "a city of great wickedness and debauchery of all kinds." His work in the Territorial Legislature may have given gentiles a view of an upstanding Mormon, but the Idaho Constitution went on to prohibit the Mormon vote. Indeed, as Idaho approached statehood Bishop Hatch was arrested and charged with polygamy, testament to the many struggles this state has had and continues to have with the concept of "common good".
As we prepared to leave Franklin the State Historical Society Director encouraged us to stop at the Bear River Massacre site on our way out of town. She warned that it is not always easy to see and it is not easy to pull a big bus over by the side of the road but she said it was worth the stop. The retired legislator said he would meet us there. I had read about the site and the only Civil War "battle" in Idaho, where an estimated 250-500 Shoshone-Bannock natives were killed by a contingent of US Army sent north from Salt Lake City in January 1863. The village was encamped at the confluence of Beaver Creek and the Bear River when the US (Union) army came upon them. The young US soldiers were California Volunteers, sent to Utah to maintain our Union as the carnage in the East mounted. It was very cold and it is said the whiskey ration doled out the night before the attack froze in their canteens.  Still, I couldn't imagine what they thought on that freezing January day.  At the dusty wayside I stepped off the bus and looked. Two other legislators joined me.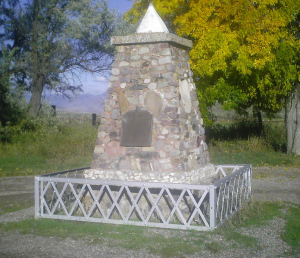 There is a stone plinth, probably erected in the 1930's with brass plaques on the four sides. The first one I read commemorated the local Mormon families taking in the orphans of the massacre. As I focused on the monument, a fellow legislator pointed to a scrubby tree and said, "Hey, what's this?"  We walked over and came under its shade. When I described the vision to a young friend and how  I imagined tourists driving by at 65 MPH, and if they didn't stop, pull over and get out but caught a glimpse of the tree and it's adornments by the monument, they may not notice much, he said as summary of my stumbling description, what I couldn't: "Hey, what's all that garbage in that tree?"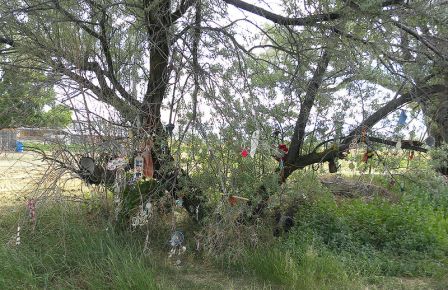 But it wasn't garbage.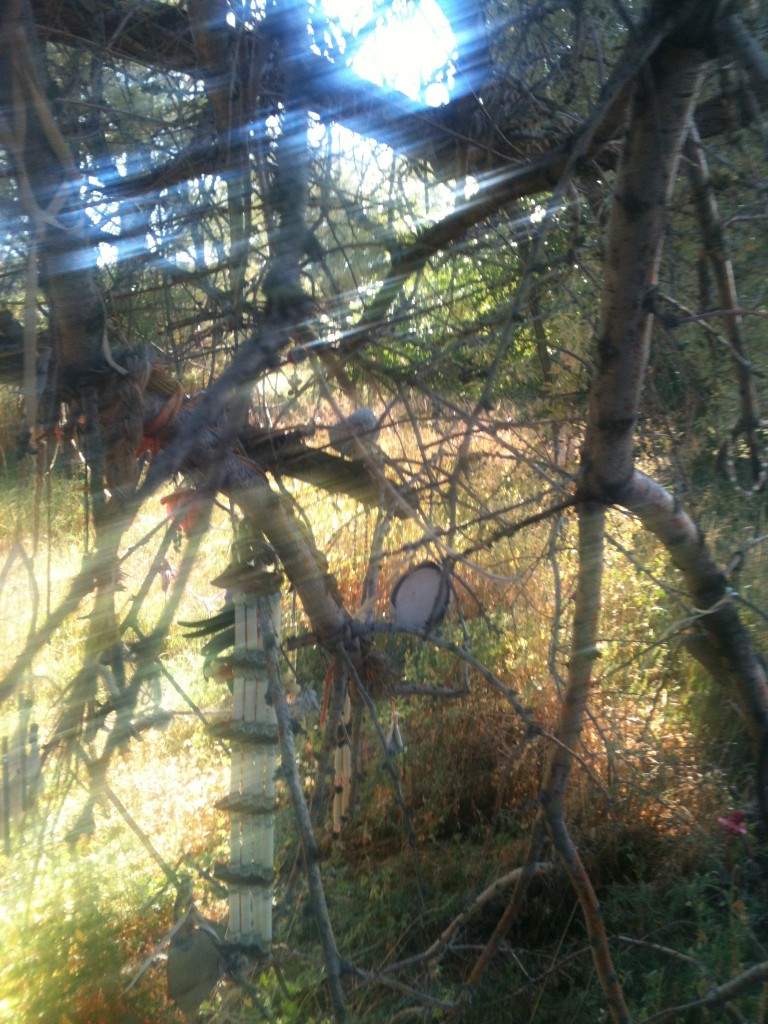 How easily we can misinterpret. Hanging from the branches of this scrubby high desert tree behind the state sign and the stone monument with brass plaques were offerings no doubt to the suffering of ancestors, and maybe a testament to their own. The intention, the honor, the reverence was palpable. It might not be an official state sign, but it was a moving place to stand, under that tree, with all that care and devotion.
I was so happy that I got off the bus.