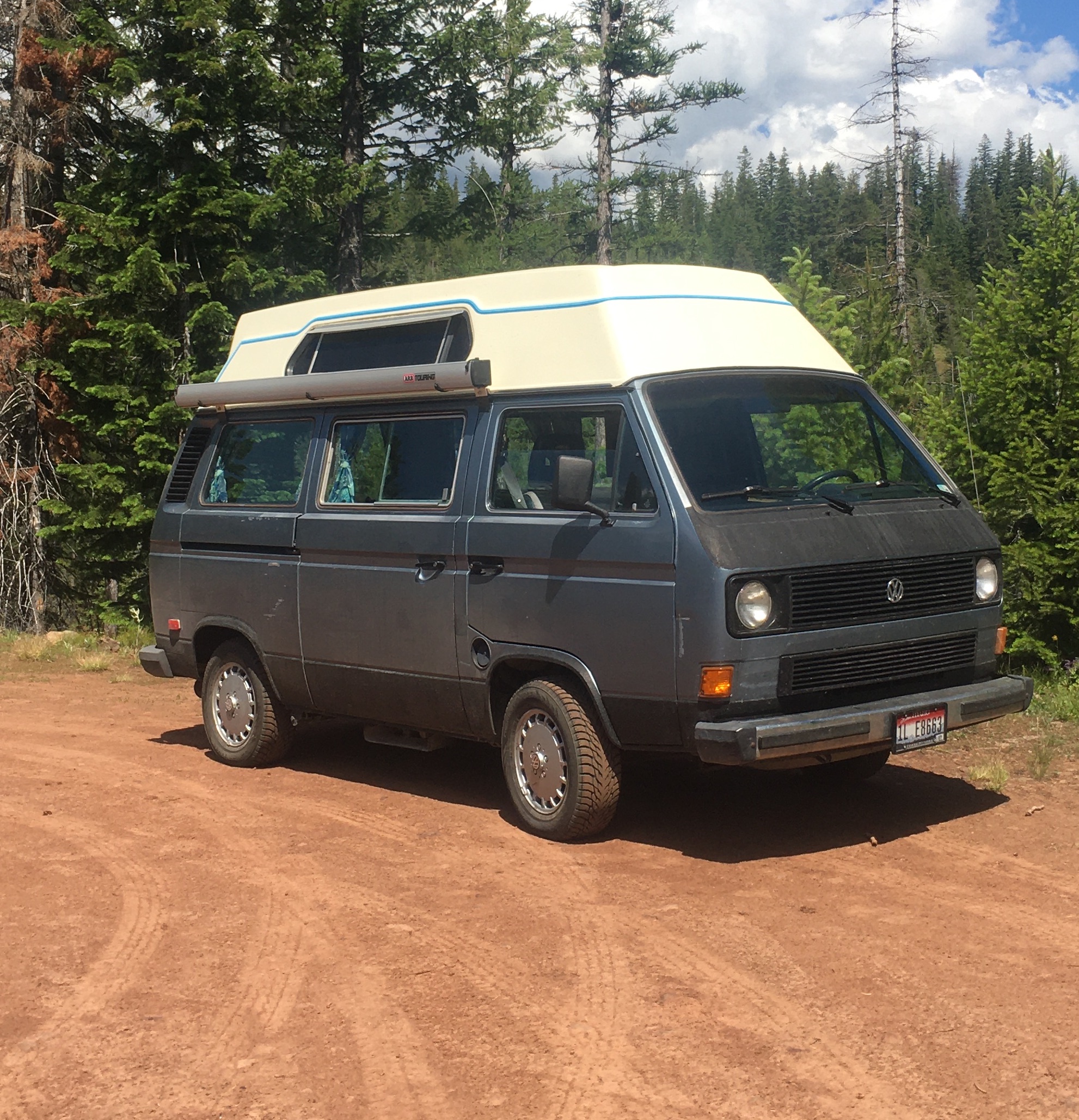 It's going to be a hot drive down to our state capital tomorrow. But I'm excited to be making it. I got the AC in my old Volkswagen van charged up. It doesn't blow cold, but it does blow cool.
Martha claims me driving the old VW around is a bit like the guys with the Trump, Let's Go Brandon flags strapped in the beds of their pickups. She worries the VW pushes their buttons, like their flags push ours.
I shrugged at that, but she does have a point. Bumper stickers, yard signs, what is the purpose of such emblems? Is it to declare our position, thus provoke the opposition? Or is it just a weak attempt to persuade?
I know the flag guy with the pickup that U-turns to tailgate me in town doesn't persuade me. He provokes my stubbornness. It's irritating. Maybe that's his intent.
The vanagon is not my tool for provocation. It just takes me down the road, and then I can sleep in it by the Salmon River on my way back home.
I don't really like to provoke. I like to persuade.
These written words are my best effort to persuade, and I fear they are pretty weak too. Why read 600 words when there's a Tik Tok video about cats to watch?
I'm thinking about provoking and persuading because of this upcoming trip to Boise. You see, I've been appointed to the Idaho Board of Health and Welfare by our governor. And the Idaho Senate confirmed my appointment. Whew. I thought that might be a hurdle.
We have a meeting in Boise on Thursday. The agenda is public. See if there's anything there that interests you. Then give me a call. Or if there's anything else bugging you about the direction or function of the Department of Health and Welfare, let me know.
Mainly I've gotten calls about specific services. I can't really fix much, but it's good to hear gripes. Sometimes there are trends.
The H&W Board is defined in law . There are seven members, one from each of the seven regions of the state. We are supposed to have political balance, with only four members from one political party.
One of our duties shall be to:
"Advise the director and the governor on department fiscal, policy and administrative matters".
For an appointed board to advise, there must be a clear understanding of the capabilities, and an even clearer vision for the responsibility. I'm working on those.
But if we as a board are to advise, we will need some consensus, some agreement. That's where the provocation and persuasion come in. I can't imagine wearing a "Let's Go Brandon" T-shirt would persuade my fellow board members. It will take more effort than that.
Further, I hope my dented VW in the parking lot would not provoke. It will be a fun meeting.
I understand we have limited resources to deal with the Health and Welfare needs of our state. My bias is to find effective practices. We have had some significant shifts in how care is provided. It is our job to make sure that care is effective and cost efficient.
Before I head down the road let me leave you with some things to consider.
55,000 Idaho children have lost Medicaid health insurance this year. Approximately 53 of those children will have appendicitis next year. Who pays? Will their parents face bankruptcy? Will the hospital shift the uninsured costs to your bill? Is this how you want things run?
Idaho leads the nation in women incarcerated. The vast majority are in prison or jail for drug offenses. Is this the way we want to treat this problem?
I'll be thinking of these things as I try to stay cool going to Boise. Wave if you see my blue beat-up van. Stay cool.