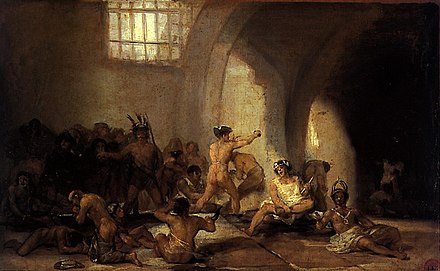 This article inspired this post. The paywall might block your reading of it, but I paste the text below the post. I saw similar problems in the 15 years I worked as the "jail doctor" in Latah County, so the story didn't surprise me. We can't always find a clear border between criminality and insanity. Justice demands we provide for all whom we have deprived their freedom.
***************************************************************************************
Imagine yourself in a brutal domestic argument. Your spouse, maybe a relative threatens you and you respond with violence. You are arrested and charged for your crime.
Now imagine further you have deep personal demons. Maybe you've struggled with them your whole life, managed them the best you could. Maybe such turmoil contributed to your domestic conflict, maybe it bounced you from job to job and kept you on a financial cliff. Your car is broken down and the boss fired you a few weeks back. Now, though, those problems sit with you in the county jail. They accompany just you to your arraignment where your right to freedom is removed. They do not testify on your behalf. Instead, they mock and deride you from inside your skull. The courtroom may be the picture of order, the bailiff stands, and the judge sits and the lawyers for the state and for you, banter about bail and risk. You are sent back to jail to await your trial.
The trial is speedy and definitive. You must serve time in the custody of the Idaho Department of Corrections. You have lost your freedom in this country where we say we respect "the rule of law".
But the demons begin to win inside your small hard skull. You find no meaning to this life you have struggled through for maybe too long. Your brain stops telling you what to do. The jail deputy notices you don't get up for breakfast. You have soiled yourself. You do not respond to the deputy's speech. You stop responding to everything. The demons murmur or screech and you have retreated as far away as you can go.
The jail deputies ask for help. You are examined by professionals and deemed unable to care for yourself, indeed a risk to yourself and maybe a risk to others, given the history of violence presented at your trial. The county jail and the county sheriff ask for help.
Professionals have determined you need medical and psychiatric assistance. The Idaho Department of Corrections asks the Idaho Department of Health and Welfare to help. They do their evaluation. They determine you need care that the DOC cannot provide, but you are too great a risk to go to a state mental hospital.
Meanwhile, the days go by in the county lockup, your freedom long gone, and your mind possessed of demons and doubt.
This movie you have obligingly created in your mind at my request is not over. In fact, this is just episode one of the first season. It is an ongoing series. Idaho could make this a Netflix drama with little production cost. This happens every month in a different county in this wonderful state. Idaho Justice would be an excellent title, don't you think?
This is not justice for the convicted and the severely mentally ill. This is not justice for the sheriff or deputies who swear to protect the convicted, now denied their freedom, but in their charge. This is not justice for the officers of the court, the judge and the lawyers who swear to serve. This is not justice for you and me who should know that this travesty is happening in our counties, in our state.
If you doubt that this is not just a mental Netflix series, ask to have a conversation with your local elected county sheriff. Ask them if such a scenario has occurred under their watch. See if they shift and deflect. It is a painful truth we all do not want to face.
For how we each define justice, for ourselves, and for those we have allowed "the rule of law" to deprive of their freedom is a telling definition. Please search your soul. I believe we can do better.
************************************************************************************8
Lewiston Tribune article, April 9, 2022
The plight of an inmate who has languished at the Idaho County Jail for months highlights the critical lack of mental health treatment options on the Camas Prairie.
A group of about 36 county and state officials met Thursday at the Soltman Center in Grange-ville to discuss taking the first steps toward establishing mental health services for Idaho and Lewis counties. A recovery, crisis or outreach center likely would be modeled after such facilities currently operating in Lewiston, Moscow and Orofino.
That future plan, however, doesn't help an inmate currently being held at the Idaho County Jail. The man was convicted in January during a court trial of multiple felonies, including attempted strangulation. Shortly after the conviction but before sentencing, the inmate became suddenly incapacitated, or "catatonic," meaning he stopped eating, drinking, moving voluntarily, speaking and taking care of personal hygiene functions.
The ongoing care of the inmate, along with what sheriff's officials believe is stonewalling by the Idaho Department of Health and Welfare to find a mental health facility where the inmate can be treated, has created what Idaho County Sheriff Doug Ulmer believes is a dangerous situation.
"Our job is to protect the community and protect the people in our jail," Ulmer said during an interview at his office Thursday.
"This person needs help. He had a bed (in a mental health facility) to go to in Boise. Health and Welfare did their interview and said he did not meet their criteria.
"The roadblocks are being thrown up, in my opinion, by the Health and Welfare mental health group and their process. We are not set up to deal with his situation at all. It takes 24 hours a day, seven days a week checking on this person. It's a constant pull and there's no light at the end of the tunnel. We just keep getting this runaround from Health and Welfare. … This person shouldn't be in our facility; he should be in a hospital and getting the help he needs."
Michael Wraith, program manager for Health and Welfare's Regions 1 and 2 Behavioral Health program at Coeur d'Alene, said he couldn't comment on the specifics of any case.
Speaking in general about the department's policies, however, Wraith said "there are a lot of nuances that come into every case that's committed to us. Medical complications are one of the primary issues. … Sometimes, if a person is dangerously mentally ill, it slows down the process."
Although the Idaho County inmate was evaluated by a licensed psychologist following a court order, Wraith said his department has to have additional evaluations if there are complications to a case, such as medical problems or someone who is dangerously mentally ill.
That, apparently, is what has happened in the Idaho County case.
Brian Hewson, chief deputy for the Idaho County Sheriff's Office, said shortly after the court-ordered evaluation of the inmate, he made contact with the Idaho Department of Correction in Boise to let people there know Idaho County would be sending down the inmate.
"I told (the person he contacted), 'We're getting ready to load him up and we're getting ready to transport him to you, like the court order states,' " Hewson said. "He says, 'Hold your brakes, it doesn't work that way. We have the ability to not go by a judge's order.' He said, 'Judges don't like it, but that's the way it is.' I go, 'OK, that's a new one to me, right?' "
Hewson continued: "He said, 'What we need is, we need Health and Welfare to evaluate him because we go by Health and Welfare's determination.' (The inmate) had already been evaluated by doctors, psychologists, but that's not good enough."
Two workers from Health and Welfare showed up at the Idaho County Jail a couple of days later, Hewson said, and spent 10 to 15 minutes with the inmate. There was no interaction with him at all, and the workers left and filed a report for the Department of Correction.
"The Department of Correction says he does not meet their criteria because he's not a dangerous individual," Hewson said, pointing out that the inmate had been convicted of attempted strangulation and assault.
"We have concerns. He's been convicted, so if he goes to a state hospital with lower security, my concern is that he is now a flight risk because he has not been sentenced yet. … We have had him at St. Joe's several days. He was evaluated and they said he should be hospitalized but they didn't have a bed for him.
"We don't know where to turn," Hewson said. "I've never seen roadblocks like this."
Wraith said his department tries to have transparent communication with other agencies, but sheriff's officers said that has not happened in this case.
"Our commitment process in general is a complicated system," Wraith said. "So it's not something (where) we're intentionally creating barriers.
"Any patient that is committed to us gets placed into an appropriate facility as soon as possible," he added.
Ulmer acknowledged that even if a recovery or crisis center was available in Idaho County it probably wouldn't have helped out in this particular case.
But there are other examples of why the Camas Prairie needs places for people who are having behavioral health crises.
"We have people we deal with all the time," Ulmer said. "How many times a deputy or a policeman opens his billfold to buy somebody lunch that can't (afford it). These people are just wandering and they have issues. They're hungry and they need food (and shelter).
"We work with these people all the time," Ulmer said. "So if there was an avenue we could take these people to, to get them help, that would be huge."
Hewson added, "There's people out there wandering around who don't meet that criteria of being a danger to the public or themselves. And the services that we were talking about (in the resource and crisis center meeting), that would work for them if there were contacts that we could call or steer them in that direction."
Ulmer said his office supports the idea of a behavioral health resource or crisis center in Idaho County, "but if it comes with the red tape Health and Welfare has made, we don't want to be involved.
"We try to help people out and it kind of feels like you're failing miserably because you keep running into this wall," the sheriff said. "This person (the inmate) remains in our facility that we are not in any way, shape or form able to deal with. We deal with his needs because we have to, because the people who should be dealing with him aren't. It's aggravating."