We had a "Kitchen Table Economics" presentation Monday night in the Senate Auditorium. It was quite well attended, with many union and Occupy folks milling in the hallway. I came out of my office planning to go to the meeting but we had to wait because Joint Legislative Oversight Committee (JLOC) was still using the auditorium. I had wanted to hear the presentation of the JLOC study "Reducing Barriers to Higher Education" so I slipped in.
The conclusion, which was all I could get, was disappointing. The barriers seemed to be multiple: cost and preparedness as well as perceptions of value (is college worth it?). Our Republican dominated legislature has been making higher education more expensive for the past ten years by not supporting the universities in the budget, and reducing preparedness by cutting funding to schools. So maybe the perception of low value in Higher Education is shared by our elected leaders. This year, for the first time in his administration, Governor Otter increased the budget for Universities.  I hope they can recover.
The "Kitchen Table Economics" was lead by a minister who quoted Martin Luther King. The auditorium was full with many burly guys wearing t-shirts signifying Firefighters Unions or other Union locals. The minister introduced the main speaker, Dr. Stephen Cooke from Moscow. We got an economists lecture, not a rousing alliterative sermon. I was impressed that the crowd was so attentive. Steve's point was that Idaho has chosen the path of low wages (Idaho average annual wages are $10,000 below the national average.) thus low revenues, and then we cannot attract businesses that need highly educated and skilled workers, so we have a vicious cycle.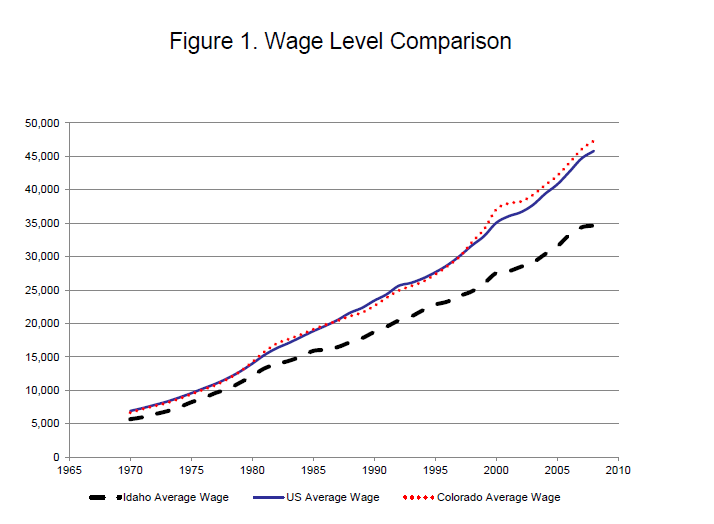 After Professor Cooke's presentation we had folks get up and tell their stories.  There were young teachers who couldn't afford to pay their college debt and raise a family. There were laid off workers getting foreclosed on. There were carpenters not getting paid by their employers and then turned in to immigration.
But one story really resonated for me. A young man got up and told how he had become a pipefitter right after high school. He was working non union and kept in low paying jobs, given no security and no extra training or certifications. After 6 years of this he joined the union. In the last 5 years with the union he has completed his apprenticeship and gotten 5-6 certifications (further skills training). He is buying a home and raising a family. So the trades can be a way to a middle class success, if the wages are adequate. Why aren't they?
Let's go back up to the graph. We follow the three lines, Colorado, US and Idaho wages. Idaho is below the other two, but following along until about the mid 1980's. And I'll bet most people in that auditorium don't even know what happened in Idaho in the mid 1980's. Union membership plummeted.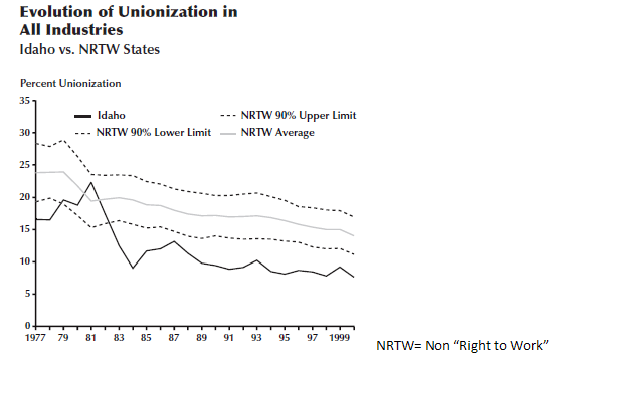 Interestingly, the Idaho "Right to Work" law didn't pass until 1987, well after the significant drop in union membership in Idaho. After "Right to Work" large manufacturing increased in Idaho and our average wages have dropped.
So Idaho has low wages, now high unemployment and increasing poverty. State investment in higher education, even K-12 is floundering, and we aren't sure how to get out of this cycle. Could union membership, on the job training and increased wages for trades be a solution for middle class success?
In 1987 I was in Residency training in Spokane, Washington so I couldn't have voted for or against the "Right to Work" bill. I think I would have voted for it because I don't think Union membership should be compulsory based on the workplace. But honestly, I'm not sure that's what the law was about. I remember a lot of union-bashing publicity. It was the most expensive political campaign in our state's history. It changed Idaho politics, with the Democratic Party never recovering. I think the unions were losing popularity before that. Maybe we need them back.
If I was a young tradesman I think I might join the union. If they could help me earn a living wage and better myself and my family. I'd be nervous about them getting into politics. Maybe that was the problem.